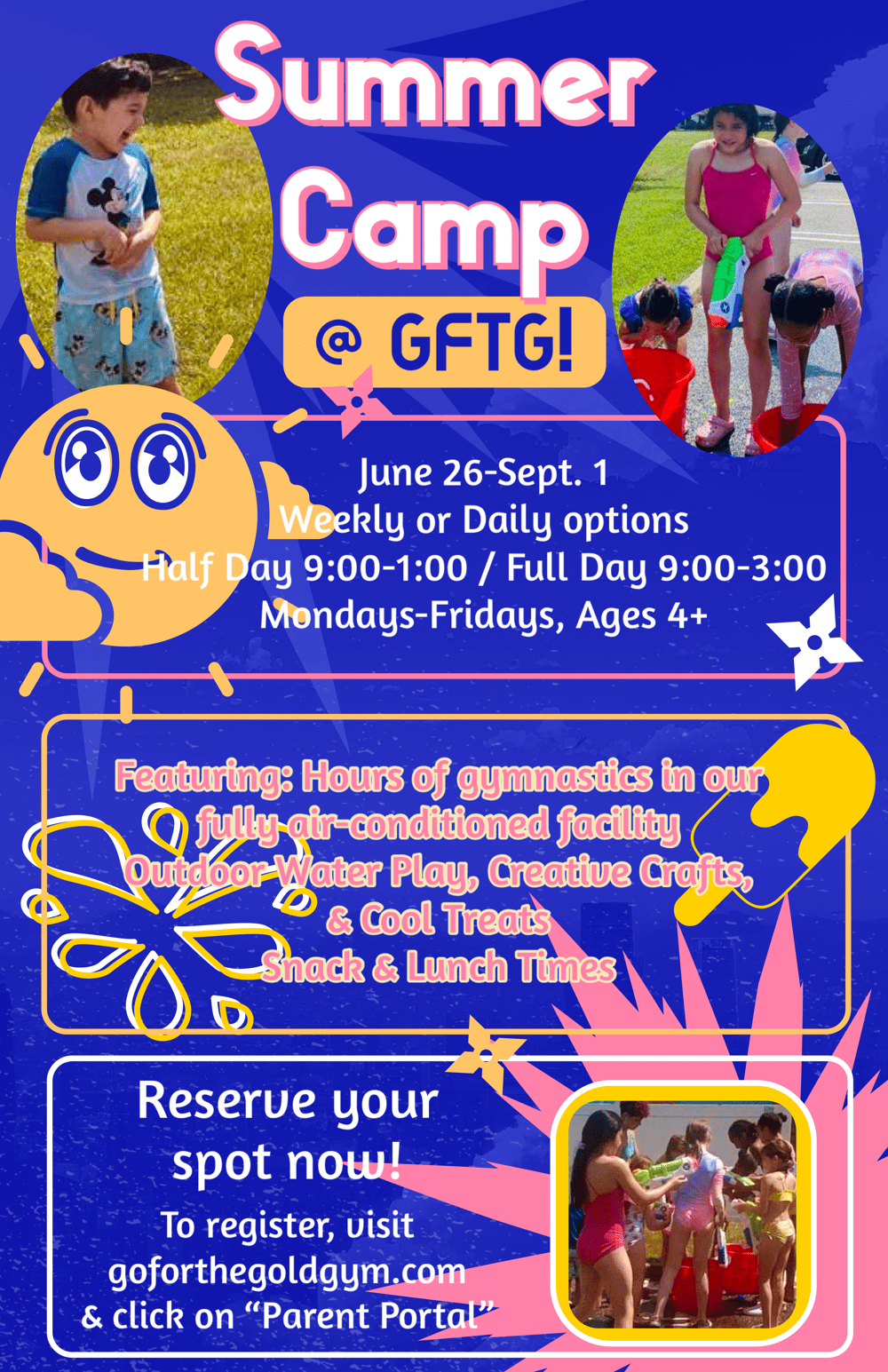 June 26th - September 1st

Half Day 9am to 1pm
Full Day 9am to 3pm
Join us for our Summer Camps !!
It's better than ever!!!
---

Indoor Gymnastics
Water Play
Outdoor and Indoor Arts & Crafts
Relays and Games
Obstacle Course
Trampoline
Tumble Track
Bounce House
And much more!


BYO Snack, Lunch and Water


10 Weeks to pick from:
June 26th to September 1st

Monday to Friday
9:00 to 1:00 pm
or
9:00 to 3:00 pm

Ages 4 & Up

FEES:
$30.00 Annual Registration Fee participant

HALF DAY
9:00 am to 1:00 pm
$300.00 per week

FULL DAY
9:00 am to 3:00 pm
$425.00 per week

10% Sibling Discount


Refund Policy

Full payment required at the time of sign up.
Full refund if you withdraw before May 1st.
$75.00 Penalty If you withdraw on or after May 1st.
No refunds issued 4 weeks prior to the 1st day of scheduled camp.

Changes - Switching days/weeks

You can switch weeks if you need to depending on availability.
For staffing purposes, please keep in mind the following deadlines:

If you are enrolled for a full week and want to switch to a different week, you must email us 2 weeks prior.
Changes with less than 2 weeks notice may be subject to an additional fee.

If you are enrolled for a specific day of the week and you need to switch the day, you must email us at least 48 hours in advance.
Changes with less than 48 hours notice will have a $15.00 fee.